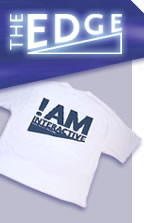 Sign up for The Edge newsletter today and get this cool "I am Interactive and I am on the Edge" T-shirt. Free.

Welcome to the inaugural issue of The EDGE, a monthly e-newsletter by TMP. It's quite appropriate that this is online, as we pride ourselves in delivering solutions with an interactive edge. Every month, you'll receive news, information and updates on topics vital to your recruitment, retention and human capital management initiatives. If you have a chance, please visit our new website at AdComms.tmp.com.

Introducing TMP's Retention Services:
Multiple Solutions for an Awakening Economy


When the economy slumbered, many HR professionals naturally relegated retention efforts to the back burner. When employers had few other options, human capital dollars found better allocations elsewhere. A more vibrant economy, however, is putting an increasing demand on holding onto present employees.

In response to this situation, TMP has developed a new suite of strategic retention services. The core of the services contains a set of diagnostic tools that answer the most crucial question: Why do some employees leave, while others stay? Why do some highly valued members of the workforce decide to go elsewhere?
more»
Healthcare expert Greta Sherman strengthens company's practice





The days of relying on clever headlines and pretty pictures in newspaper ads are rapidly receding in the rearview mirror. Healthcare organizations need a comprehensive vision of workforce needs along with a "strategic integrated program" to meet them. So says Greta Sherman, TMP's new Senior Vice President of Strategic Planning, Healthcare, and a nationally recognized authority on healthcare staffing and metrics.

more»

---

SPOTLIGHT ON HR
Seith Feit, HR Director AOL

What is your greatest recruiting challenge for 2005?
This year it's all about driving consistency. We already revamped the entire recruitment process for our corporate groups and all VP and above positions. However, that only accounts for 600 of our 7,000 yearly hires. Because of our decentralized nature, its is more important then ever to be consistent with our processes, use of technology and general recruiter competencies.

What do you think HR's greatest recruiting challenge will be 5 years from now? Five years ago I would have said "technology and how to maximize its use." Five years from now, I'll probably say "technology and how to maximize its use." We have already seen the consolidation of major career/resume mining portals and applicant tracking systems. The next technology wave will involve the further consolidation of "niche" recruitment sites and the growing emergence of electronic pre-screening and pre-qualifying assessments, virtual networking for searching, and a few breakthroughs ideas yet to be imagined.



Rush University Medical Center





Across the United States there is a nursing and allied healthcare shortage that is expected to increase as the Baby Boomer generation ages and requires more medical services. At Rush University Medical Center, they are addressing the need to recruit additional healthcare professionals by combining consumer and recruitment advertising initiatives. The new multimillion-dollar consumer campaign titled "It's How Medicine Should Be" has successfully transitioned into a powerful employer branding initiative.

more»






Discover the 7 Secrets to Building an Effective Recruitment Website.
When it comes to everything interactive, TMP offers you an unparalleled level of excellence and the most progressive hiring strategies, tools and services. more»

---




FEATURED PRODUCT




Online Resume Mining

Finding top talent isn't easy. With Online Resume Mining , you can be as selective as you want, and leave it to TMP to deliver precisely the resumes you need, saving time and money.

more»




---

What's Hot
in HR


Return on Investment

Are you meeting your recruitment and retention challenges while maximizing return and reducing costs? Measuring results is possible with the right tools and tracking solutions, eliminating guesswork and paving the way to continuous improvement.

more»